To contact the Webmaster, visit the 'Contact Us' page and complete the form with the information requested. When completed, click Send.
© Website created by FCM Neal O'Connor exclusively for the USS Intrepid Former Crew Members Association, Inc. and its members.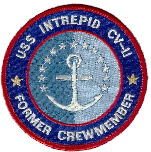 Section 1. Name
The corporation name is: USS Intrepid Former Crew Members Association, Inc. Hereafter known as the "Association" or "Corporation".
The Association was founded April 26, 1986.
Section 2. Objectives
The USS Intrepid Former Crew Members Association, Inc. is established to promote and assist in the preservation and remembrance of our gallant ship, the USS Intrepid (CV, CVA, CVS-11) and to honor all those who served on her. In order to accomplish this, the association will:
Assist the Intrepid Sea, Air & Space Museum Complex in every way possible to preserve and maintain our ship. Such assistance may be in the form of time, labor, or financial support.
Organize reunions so that Former Crew Members and their descendants may visit the ship regularly and meet with former shipmates.
Maintain memorial displays and organize memorial services, as appropriate, to remember those who have made the supreme sacrifice.
Organize other events, such as Christmas parties for disadvantaged children, anniversaries of WW II events, Fleet Week activities, etc., as to enhance the public awareness of Intrepid Museum and its Former Crew Member Association.
Maintain an organization of Former Crew Members and their descendants wherever they may reside to permit them to remain in touch with their ship and all activities involving her.
Publish a newsletter on a regular basis informing all members of the activities involving the Intrepid and their Association.
Raise funds as necessary to support the programs of the Association.