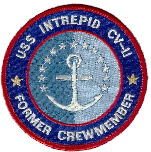 To contact the Webmaster, visit the 'Contact Us' page and complete the form with the information requested. When completed, click Send.
© Website created by FCM Neal O'Connor exclusively for the USS Intrepid Former Crew Members Association, Inc. and its members.
OBITUARIES FOR USS INTREPID FORMER CREW MEMBERS
The obituaries below are sent from Legacy.com. Notices are sent about those who served aboard USS Intrepid and who have completed their final deployment. Reported below are the short-version obituary lead-in's that Legacy.com places on their website about each of those Former Crew Members who have passed. If you are familiar with any person(s) listed below, you can link to their complete obituary listed at the end of each notice.
If you become aware of a USS Intrepid Former Crew Member who has recently passed-on, kindly send that person's information along with their survivors' contact details to our Good and Welfare Program Chairman, FCM Charles Coppess. His E-Mail is w5147956@yahoo.com. Please also send an E-Mail Cc… to: uss.intrepid.fcm@gmail.com. Thank you.
Below are the obituary results for those who served aboard USS Intrepid as reported by Legacy.com.

Thomas F. Jost
Louis J. Valenti
John Nugent Jr.
...was born on Dec. 4, 1924 to Madeleine and John Nugent Sr. in Rochester, NY where he was raised. He enlisted in the Navy and served in WWII on the USS Intrepid. Then he attended Rochester Institute Tech for one year. Upon return…
Read the Full Obituary here.
Emerson Harold "Eli" Fly
...child of Francis and Emerson Fly. Raised from the age of 2 by his widowed mother, Eli joined the US Navy and became a Aviator on the USS Intrepid. After his military service was over, utilizing the GI Bill, he earned a BA…
Read the Full Obituary here.
Michael Albert Hickman
...friends. MCPO Hickman was born on April 11, 1935 in Elmwood, OH and joined the USN in 1953. After numerous sea deployments aboard the aircraft carriers USS Franklin D. Roosevelt and the USS Intrepid, MCPO Hickman retired from…
Read the Full Obituary here.
Albert "Al / June" Messer Jr.
.
..Messer was a former employee of Fort Rucker, Wheelis Aviation and a truck driver for Trade Mark Nitrogen in Brandon, FL. He spent four years proudly in the United States Navy serving most of his military carrier on the USS…
Read the Full Obituary here.
James G. Keatts
...petition drive to turn Little Rock Junior College into what is now known as the University of Arkansas at Little Rock. Jim enlisted in the Navy in 1958 and proudly served on the USS Intrepid as a hospital…
Read the Full Obituary here.


Caley Eugene Alberti
...at the age of 17 to support his mother and father. During this time he proudly served on the USS Intrepid during the Vietnam War. After 23 years of service he retired as a Senior Chief Hospital Corpsman. After returning home he…
Read the Full Obituary here.


Ronald L. Wishman
...Ronald was proud to have served in the US Navy aboard the USS Intrepid (Vietnam). He was a retired Tool and Die maker from Delphi after 30+ years. Visitation TUESDAY, July 25, 2017 at St. Alphonsus Catholic Church, 5960 W…
Read the Full Obituary here.


John M. Adcock Jr.
...His last ship of service was the USS Intrepid. He retired as a Lieutenant from the U. S. Navy and also retired after 10 years from Planter's Peanuts. He was a loving husband, father, and grandfather. He provided…
Read the Full Obituary here.
Daniel Dulny
...is survived by his daughter Danette and son-in-law Kirk Davis and his son Chris and daughter-in-law Stacey and his grandchildren Bryan and Kate. He served his country on the aircraft carrier USS Intrepid. After marriage he…
Read the Full Obituary here.


…Lou was a native of Brooklyn, having been born there to his late parents, Anthony and Columbia. He is a proud Veteran having served in World War II with the U.S. Navy aboard the USS Intrepid, CV-11. After working for Republic Aviation Corporation for many years, he found a love in the real estate industry. For the latter part of his career he worked as an Agent for Moles Realty in Lindenhurst, Long Island, NY.
Read the Full Obituary here.
…Thomas F. Jost of New Hyde Park, NY, formerly of East Meadow, NY; passed away on August 27, 2017 at the age of 77. Beloved husband of the late Marlene. Loving father of Michael (Cathy), Thomas, and Theresa (Richard)...
Read the Full Obituary here.